At immersiv.ly we have had it in mind for some time to make short travel documentaries in 360-degree video. It's a topic – compelling background image, compelling front-of-camera narratives – that lends itself to storytelling in the medium. We found we were going to be in Los Angeles in September 2015 at the same time as the film-makers Jean Yves Chainon and Carole Chainon, who we had met at the Global Editors Network summit in Barcelona earlier in the year, and decided to work together on a series of films on the City of Angels.
We designed this first season of programmes – focusing on city highlights, entrepreneurship, health, arts and music – to establish some repeatable formats. The next seasons will focus on Singapore and some of the great cities of Latin America.
The Los Angeles season launches soon, and we are excited to share the way in which spherical video on travel themes lends itself to intimate storytelling in front of rich, eye-opening backdrops. The California weather, the ineffable light, and the city's can-do, will-do vibe, certainly helped us to find some vivid subjects. But ultimately the films are all about personal narratives. And we found our subjects felt well at home speaking to a 360-degree video rig, with no crew in sight.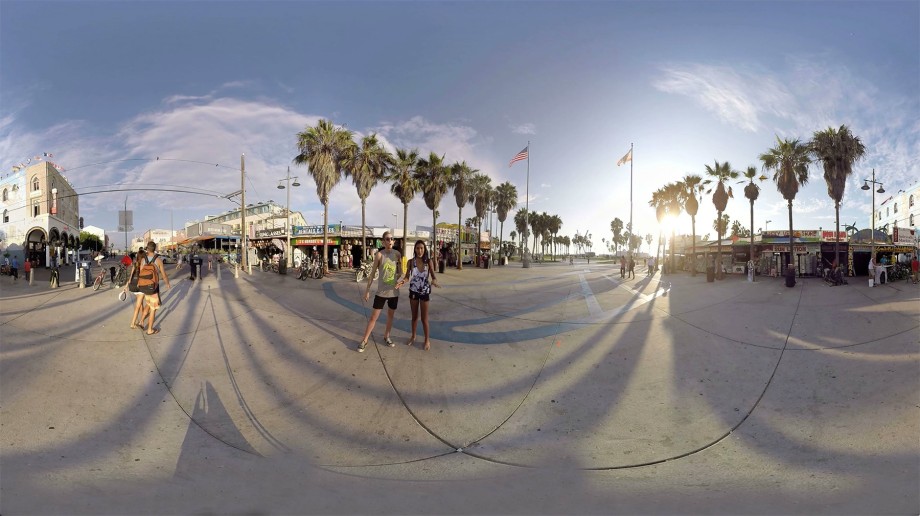 Health and fitness was a natural programme subject for California, the fitness industry's home country, where the out-of-doors West Coast life was born. We were lucky enough to film at Fortune Gym on Sunset Strip, where Justin Fortune, a former heavyweight pro who trains the legendary Manny Pacquiao, runs an inimitable boxing-based fitness set-up. It's for people who are serious about fitness. We were also fortunate to film at Gold's Gym, in Venice Beach, the mecca of bodybuilding, with two rising stars of health and fitness – the three-times Mr Universe Calum von Moger and the charismatic Stanislas de Longeaux (aka Stanimal). Both of them are living the dream set out by Arnold Schwarzenegger, but on their own terms, evangelising for a life they love through a big social media presence. And both Calum and Stan feel sustained by the city's welcoming, entrepreneurial, fitness community. It helps when the beach is two blocks away.
We will let you know when the LA season is available to stream in 360-degree video.